HARD TRUTHS directed by Tony Montana
 

Caring Award Recipient 2015

-

GLORIA HONORED AS 2015 CARING AWARD WINNER - We celebrate the remarkable news that our founder and inspiration, Gloria Lewis, will receive the prestigious Caring Institute Award at a ceremony also honoring Pope Francis. It was officially announced by Senators Bob Dole and Tom Daschle, Co-Chairs of the Caring Institute based in Washington, DC, that Gloria will be one of [...]

A Filmmaker Finds Gloria In Action

-

GLORIA LEWIS TO APPEAR IN MAJOR DOCUMENTARY FILM - "Two days ago we met Gloria Lewis," wrote Rotimi Rainwater in May 2015 after filming Gloria for his feature-length documentary, Lost in America. "A small firecracker of a woman in her 50's from Barbados, now working as a waitress in Fort Lauderdale, [she] is doing more for the [...]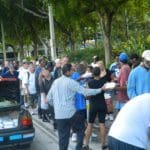 How People In South Florida Live On $4 A Day In Food Stamps

 
-Florida is among the top 10 states with the largest share of its population relying on food stamps. Nearly 20 percent of the state requires assistance. However, with federal cuts to the program likely, many could find it even more difficult in South Florida, where the cost of food is above the national average.

Homeless Mother Of Five In Need Of Permanent Home

–

 
MIAMI (CBS Miami)

– It's a place Michelle McCray never imagined she'd find herself.

The mother of five children is homeless and is cut off from financial help after the               father of her youngest child was killed. "I've been trying to find work, but it's hard for me. Especially with 5 kids and my disabled mom," said McCray.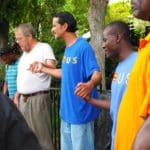 Reaching out to homeless: small kindnesses abound

  

–

Gloria Lewis' meals are

distributed to a line of hungry people in downtown Fort Lauderdale. GLORIA LEWIS hey start with a prayer: "We ask that you show us the 

way." Then a car trunk opens full of 80 clamshell foam boxes, each with "God Bless" and a smiley face inked on top. For the past nine months,  Gloria Lewis and her husband, Antonio Vargas, have  been feeding the homeless each



Woman Makes Meals For BSO Deputies To Show Her Appreciation In Tough Times

–

 
BROWARD (CBSMiami) – Gloria Lewis is dedicated to preparing food. She does this weekly, making as many as 300 hundred meals for the homeless.On Thursday, her  mission was still cooking related.  But this time, the meals were for the men and women who protect the community.
SUPPORT CARE IN ACTION USA
Even a small donation goes a long way. When on the PayPal donation page, please consider checking the box to make your support a recurring monthly donation.